Bring New Life to an Old Boat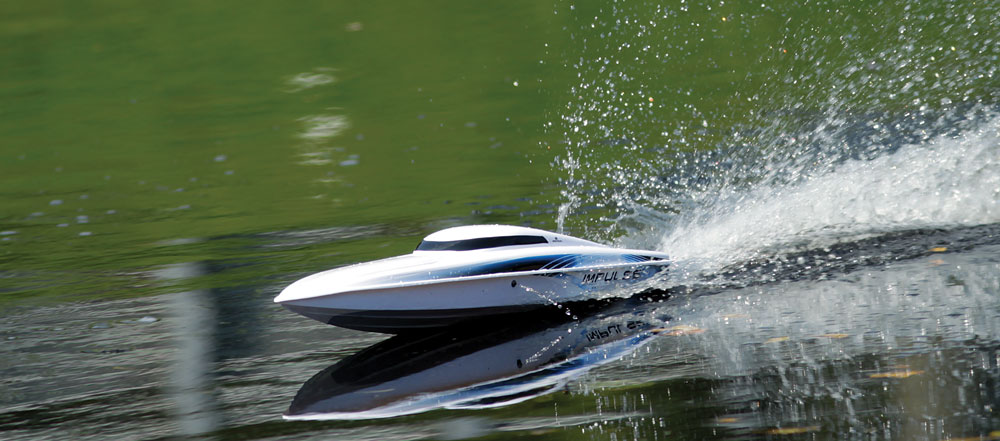 By Erick Royer
Several years ago I reviewed a Pro Boat Impulse 26 from Horizon Hobby and at the time it was a blast to race around the pond at our house. Since then I've reviewed many new boats with each one seemingly faster than the one before. Yet somehow my son and I keep going back to the Impulse 26 for various projects, including a trailer that he made to pull the boat behind his RC truck. Then one day the Impulse saw its last run around the pond as the motor finally seized up.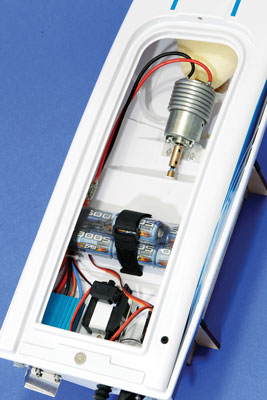 MOTOR SPECS
Can Size: 540
RPM/V: 3500
Poles: 4
Max Voltage: 11.1 (3S)
Max Current: 60A
Max Watts: 400
Can Diameter: 36mm (44mm with water jacket)
Can Length: 49mm
Shaft Size: 3.175mm
Weight: 8.25 oz. (234g)
Price: $49.99
ESC SPECS
Constant Current: 60A
Burst Current: 380A
Battery: 2-3S LiPo
BEC: 6V, 1.5A
Motor Type: Sensorless
Size: 31.5 x 27.5 x 16mm
Weight: 1.1 oz. (32g)
Low Voltage Cutoff (programmable): none/2.6V/2.8V/3V/3.2V/3.4V
Timing (programmable): 0.00/3.75/7.50/11.25/15.00/18.75/22.50/26.25
Price: $39.87
BATTERY
Capacity: 3300mAh
Voltage: 11.1 (3S)
Discharge: 25C constant (50C burst)
Weight: 9.3 oz. (263g)
Dimensions: 146 x 42 x 20mm
Price: $26.72

I am sure that many of you who are reading this have a boat or two tucked away in your garage or in storage that you might have loved at one time but over the years lost your desire to run because either it stopped working or it was just too slow. If this is the case then read on and hopefully I can give you some ideas to revitalize your old boat without investing in a whole new watercraft.
I did some research to see what power systems were available to suit this boat. I had two main criteria; it had to be fast and it had to be inexpensive. I was more concerned about the latter as this boat does not owe me anything, but I still could not justify spending hundreds of dollars on a new power system which would easily exceed the value of the boat itself.
I ended up turning to Hobby King and their Turnigy Aquastar line of boat power systems. For a motor I chose the Aquastar Sensorless 3650-3500Kv brushless motor. It has a very high-quality CNC-machined billet aluminum motor can with hand-wound copper winding and a very powerful neodymium magnet. The motor comes with an aluminum water-cooling jacket and 4mm bullet connectors pre-installed. Since this is a 3500Kv motor and I am planning to run a 3S (11.1V) LiPo battery, I expect the no-load RPM at the prop to be around 38,000 rpm. This is about 15,000 rpm more than the stock motor. The stuffing box is relatively straight and the prop on the boat is aluminum so I am not anticipating any problems with the outdrive; however, I did disassemble it and applied a generous amount of grease to provide plenty of lubrication.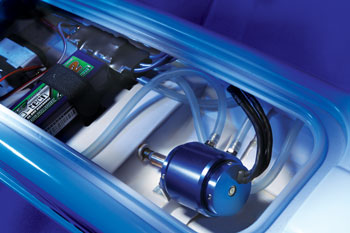 To drive the motor, I chose a Turnigy Marine 60A Brushless Boat ESC (part # TR-M-60A). The ESC uses IR mosFets, which provide long run times with minimal heat. It is coated with anti-static and then water resistant lacquer to prevent any damage should the ESC get wet. The ESC features a very fast clock cycle multiprocessor control unit (MCU) which delivers fast sync and accurate timing. The six-layer circuit board is designed to handle the high current loads for sustained amounts of time. To further keep the ESC cool, an active water-cooled heatsink has been incorporated. The ESC is also programmable with settings that you can configure which include reverse, low voltage cutoff, braking and timing so you can get the most out of your boat. The integrated BEC (battery eliminating circuit) supplies up to 1.5A to power the radio system, thus eliminating the need for an additional battery pack.
The final component for getting this boat back to life is the battery. To keep with the Turnigy brand, I used a Nano-Tech 3300mAh 3S 25-50C LiPo. This battery supplied enough juice to give me average run times of 10-14 minutes. Since one of my requirements was to keep this inexpensive, you can honestly not beat the price of these battery packs.
ASSEMBLY
Installing the new power system could not have been easier. The old motor came out by removing two screws and the new one is installed in the same location, using the same holes. The motor collar fit perfectly as well. As I mentioned above, I did remove the flex shaft from the stuffing tube and applied grease. I also used thread lock on all the screws, especially since this motor has a lot more power than the stock one.
The stock motor had a water-cooled jacket so there was already plumbing in place; however, the old ECS was not water-cooled so I needed to add an extra piece of tubing to connect the water inlet to the motor first and then to the ESC. From the ESC it connects to the outlet on the side of the hull.
I attached the ESC to the hull using Velcro and soldered a Dean's connector, which I also added to the battery. The battery fits nicely in the stock location and there was already a Velcro strap installed to hold it securely in place.
Interestingly enough, the new power system and battery only added an additional 4.5 ounces to the boat versus the stock power system, which should not be noticeable on the water. The total time to install the new power system, including greasing the flex shaft, was about 20 minutes.
With the new system installed, let's hit the water to see how it runs.
ON THE WATER
As I mentioned previously, the boat with the stock power system was a lot of fun and at the time there were not a lot of boats in this size and price range that could outperform it. However, with the advancements in brushless power systems, going faster is the norm. With a freshly charged battery installed, I armed the ESC and set the Impulse in the water. My first instinct was to just gun the throttle and see what happened but I resisted. I opted to slowly run a small circuit to make sure the trim was good and that everything was working properly. I especially wanted to run past me to make sure water was coming out the outlet on the side of the hull. With the performance and current draw of this system, a lack of water cooling would surely cause a failure.
Once I was happy that everything checked out, I punched the throttle and the boat immediately stood up on end and flipped over. Can you say "lots of power?" While that was not the response I was looking for, it was very cool. Thankfully I had a fishing pole to retrieve the boat. When I got it back to shore, I was happy to see that everything inside the hull was dry. This is a testament to the Tupperware-like lid that Pro Boat used on this hull to keep the hull airtight.
On the next run I knew I was going to have to use plenty of power management and this time I added power gradually and enjoyed watching this old boat take off like a rocket on the flat water. To say that the boat was faster and more powerful would be the understatement of the year. This is not a setup for a beginner. You need to use tons of throttle management as you run with this power system so you will spend more time on your back than racing around. That being said… WOW! This thing is a total blast! The Turnigy power system provided instant response and crazy top-end speed.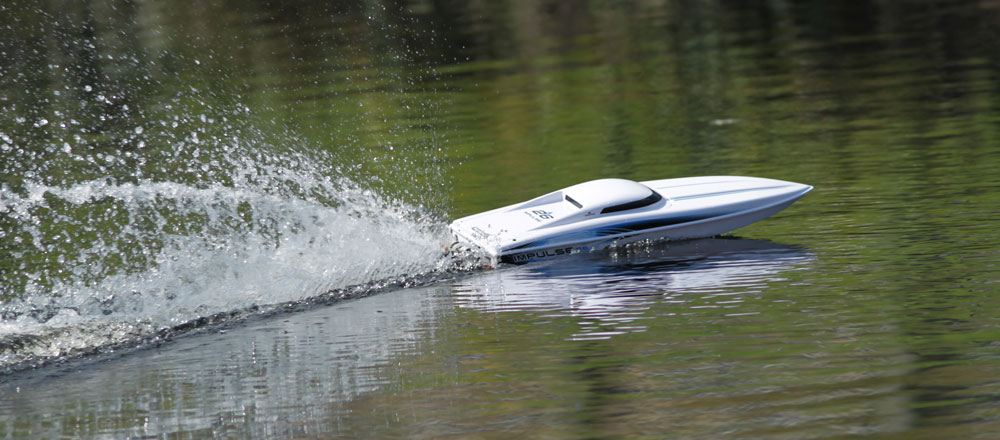 WRAP UP
I loved the Pro Boat Impulse 26 when I first reviewed it and most likely would have kept using it with the stock system had the motor not finally met its demise. The Turnigy power system that I installed cost me just under $120 and took around 20 minutes to install. This is much less than the cost of a new boat, especially a boat that can deliver this kind of performance. This was my first experience with the Turnigy marine motor and ESC and after about 15 battery packs through it, I am very happy with the quality and performance. If you have an old boat sitting around, consider one of these power systems to breathe new life back into your boat.
LINKS
Horizon Hobby horizonhobby.com
Turnigy hobbyking.com