Skipper and Gilligan Not Included!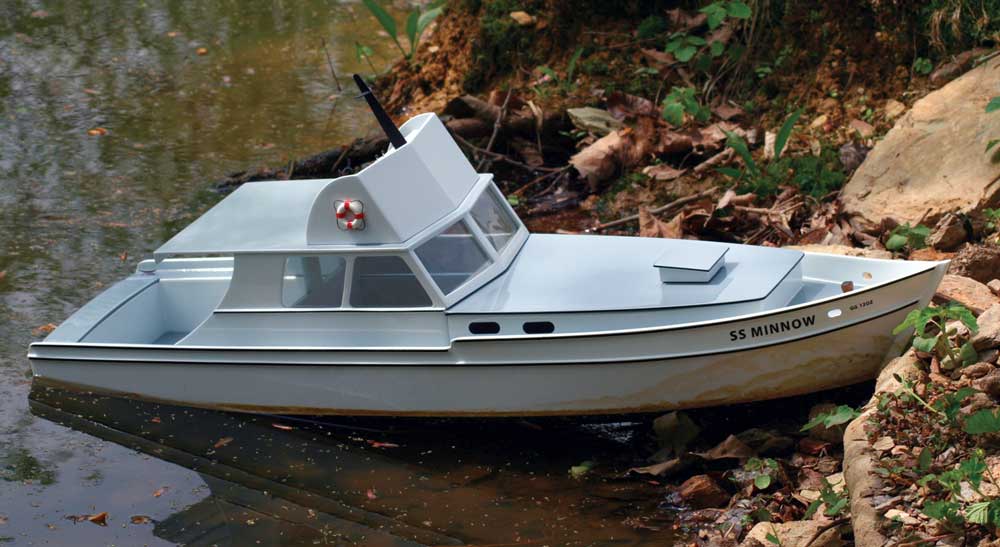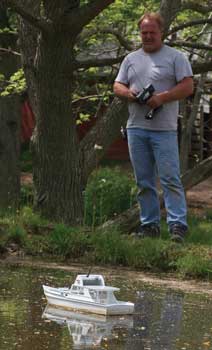 Just sit right back and you'll hear a tale…a tale of a fateful trip. If you're continuing to sing along in your head then you are among the many who grew up watching seven castaways bumbling through three seasons and 98 episodes of the 60's TV show, Gilligan's Island. This was from an era when comedy was clean and kids weren't learning the facts of life from a prime-time sitcom. The boat that ran aground, leaving the crew and five passengers stranded was a 39-foot cruiser dubbed the SS Minnow. It was named after Newton Minow, chairman of the FCC at the time the show was created. For more information, check out www.gilligansisle.com.
THE BUILDER
Doug Campbell is a hobbyist from Maryland who is into everything radio control and is among the Gilligan watchers. When he came across plans for a scratchbuilt model of the doomed vessel, he had no choice, but to embark on his own three-hour tour on his workbench. Of course it took way more than three hours to complete the project. It was probably closer to 80 or so. The plans, created by Pat Tritle from patscustom-models.com are all he had to start from. No laser cut parts here. Everything is measured and cut, piece by piece, plank by plank.

THE BOAT
The Boat plans were based on the four boats used for the show. It's not a direct copy of any one in particular, but is easily recognized. It has an overall length of 26.5 inches and is built from balsa and plywood. The hull is constructed using planks much like a full-scale hull would be. The completed hull and cabin are painted with many coats of primer before several coats of paint. The boat is propelled by direct drive, twin speed 400 motors. A single micro servo actuates a pair of rudders for steering.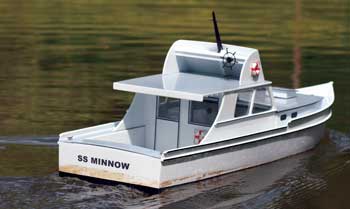 ON THE WATER
A boat like this is not meant to be a water rocket. I witnessed the maiden voyage and I was quite content watching it move through the water at what looked like scale speed. The counter rotating props and twin rudders provided consistent turns in either direction. The boat, at the time, was powered by a 1200 NiMH battery, which provided about 12-15 minutes of decent run time. Today you would run it for close to an hour on a 2000mAh, 2S LiPo. This type of boating is very much stress-free. The small farm pond, with its shade trees, contributed to a relaxing afternoon.
ORCA
When I contacted Pat Tritle for some information on his original SS Minnow plans, I was directed to his website, patscustom-models.com, and found plans for another of my favorite movie boats, the Orca, from the classic film, Jaws. A set of plans for this craft is on its way to me as I type this.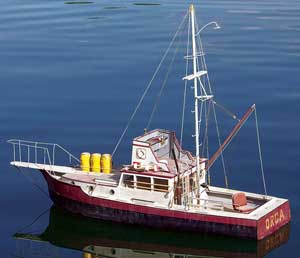 CLOSING CREDITS
Thanks to Doug Campbell for sharing his beautiful display of craftsmanship with us. The hours he has invested have paid off in a big way. This boat not only performs well, it is simply a fantastic static model when it's in dry dock. And another special thanks to Patrick Tritle for his impressive plans that helped bring an iconic television watercraft to life.
LINKS
Pat's Custom Models, patscustom-models.com
Words: David Baker