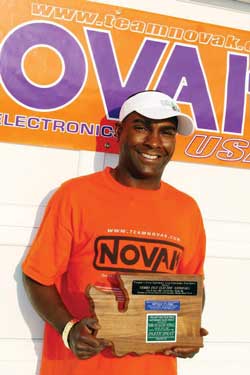 In all forms of RC, there are drivers who become icons and successfully cement themselves in our industry's history. In the case of RC boats, one man has stood out and created quite a resume, placing himself on the top of the boating wave. Bill Oxidean, also known as "Mr. Hollywood", "Hot Shot" and "Mr. Cool", has been sweeping the nation and setting some blistering records at almost every event he attends. He's not only an amazing pilot (owning over 30 National titles), Bill is also extremely masterful at design and has built quite a few feather-light, carbon fiber hydroplane hulls which he lays-up himself. I got a chance to have a one-on-one chat with the man, the myth, the legend, and let me tell you, this guy is not only a machine that lives, eats and breathes fast electric RC boats, he's a loving father with many diverse interests. So sit back, crank up your boomin' Kicker sound system, throw on your shades and enjoy the ride! We're going to see what's good in Oxidean's hood.
Tony: Your name has become synonymous with World Record boat racing. Tell us a little about what got you into boating and how long you've been doing it.
Bill: I started in the hobby at the young age of five. Through the years I passed through the many hobby stages, including model cars, model rocketry and slot cars. When I was 18 I purchased what was then one of the fastest RC cars I had ever seen from a neighborhood friend. When in college, I was hanging with a few buddies and we started kicking around the idea of an RC boat. One thing led to another and the next thing you know we were at a local HobbyTown buying a Kyosho Viper RC boat and a Peak Performance Rick's Pick 36 Degree stock brushed motor. The first day out I realized that in order to run a boat you must be outside and in nature. Bodies of water are usually in a beautiful, tranquil place and I truly enjoyed that. After quite a few months of running and modifying my boat, I contacted a few manufacturers with questions regarding the mods I had made. They told me I was a genius. With that positive feedback, I decided to pay a visit to a local RC boat factory, a visit which turned out to be extremely beneficial to me. They saw my strong desire and ability to make my boat better and offered me a spot as a team driver as well as making me a member of their club, the Devil Mountain Boilers. For the first two racing seasons I never actually won. In fact, I attended a race where everyone scored a trophy except me…including a nine-year old girl! I then realized I had been dropped right into the lion's den, racing with some of the most legendary racers in the country. At the 2003 NAMBA Fast Electric Nationals, my boat was on fire and I actually did quite well. Two guys I looked up to, Dougie Twaits Jr. and Dick Crowe, told me that I clearly had the fastest boat on the water; I just needed a bit more time. That fall I decided to participate in my first SAW record attempt at Legg Lake El Monte, CA. I broke the record on the first day out! Novak was at the event, decided to sponsor me shortly thereafter and the rest was history.
Name: Bill Oxidean
Age: 39
Home Pond: Kaiser Cove in Fremont, CA, home of the NAMBA District 9 Model Mariners
Hull: Atomik Miss Excite
Radio: Airtronics M12
Motor: Novak 4.5 HV
ESC: Novak Pulse
Sponsors: Venom, Atomik, Team Novak, Airtronics, Boca Bearings, Kicker Audio, AMain Hobbies, GoPro
Major Racing Accomplishments:
• 2007 N-2 Mono NAMBA SAW Record – 45.7mph
• 1st Place 2007 NAMBA Fast Electric Nationals
• 2012 M2 Hydro (1S LiPo) SAW Record – 73mph
• 1st Place 2013 NAMBA Fast Electric Nationals N-2 Sport Hydro
• 1st Place 2013 NAMBA Fast Electric Nationals N-2 Mono
Tony: Wow, you've been in the thick of it for quite a long time. It's great to see that even though it was tough in the beginning, all that 'pond-time' finally paid off! So, what continues to motivate you to keep competing after all these years?
Bill: There are a great number of things that motivate me to continue competing. I have a dream that RC boat racers will have just as much fame and notoriety as RC car guys. I know I'm at the forefront and strive every day to make this a reality. Another thing that motivates me is when I hear that top tier drivers are gunning for my record runs. It's not only flattering, but it also fires me up to try to better my attempts and put them farther out of reach of my competitors. I also love winning. I love the feeling of achievement and of accomplishment. I don't necessarily do it for the fame and fortune. I do have a deep passion for the sport. It's a part of me and I plan on doing it for the rest of my life.
Tony: I've seen quite a few press releases stating that you've broken another one of your own records, so it's obvious that you're on a mission to continue to be the best. You've certainly made quite a name for yourself on the local and national boating circuit. What classes do you prefer to run?
Bill: I'm really big on 1-4 cell racing in all of the various hull types. I appreciate the challenge of extracting incredible speed from relatively low voltage. In heat racing, I like the N-2 classes (2S LiPo). In SAW racing, I prefer classes that allow me to run car motors and ESC's. Since I intend to be racing for many years, I'm slowly progressing through each class and mastering them as I go. Other races attain speed by throwing more volts at their boat. I prefer an efficient, high RPM setup. I try and utilize the energy the magnets provide. This theory is working well for me as I'm dominating the 1S classes, rendering me the fastest electric boater per volt in the country. This is also great for the hobby shops as anyone can buy the same equipment I'm using right off the shelf! That's how it was when I started and it helps support the local "Mom and Pop" hobby establishments.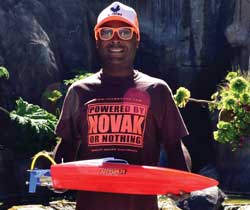 Tony: So, you're not only doing your thing with skill, you're also doing it with off the shelf products! That in itself is pretty amazing, which brings me to my next question. As drivers get better, most set goals for themselves, such as winning a World Championship. You've already attained that, so what do you see in your future? What does Bill want to accomplish next in the RC boating world?
Bill: Future plans include taking my racing abroad. I would like to see more of the world and what better way than through my racing endeavors. Europe has a thriving fast electric circuit as well as Australia, Asia and Great Brittan. My goal more than anything is the promotion of the RC boat racing sport itself. Nothing would make me happier than to see more folks boating recreationally as well as on the racing circuit. My other plans are simple; keep going faster and setting new records. I've come to a better understanding of the power systems Team Novak has provided me and used this knowledge to unleash some serious performance. I've proven myself and our equipment on the water. This season I'm going to focus more on promoting the sport the best way possible through video as well as other media. I want there to be an RC Boat in every third household the world over.
Tony: That's some ambitious goals Bill but if anyone can do it, you can! I think racing abroad would be a total blast, showing the natives over there how we do it in the States! Since we're talking about racing, what's your favorite part about a big race? Do these big events bring out the best in you?
Bill: My favorite part is seeing fellow racers from all over the country that I only see at big events. In my racing adventures, I've made friends with and gained the respect of some wonderful people. I also love the notoriety; it fuels me and makes me strive that much harder to be the best. I also love the words "National Champion Bill Oxidean" and "World Record Bill Oxidean", terms I've heard a few times in my career that put a smile on my face. As a racer, I'm always learning and growing and there is a priceless amount of knowledge to be gained at these events. I love the travel (minus the flying part) and love seeing the beautiful countryside. I am so lucky to have been able to do what I do and see what I've seen, and I've gained a great appreciation for this beautiful country we live in through that.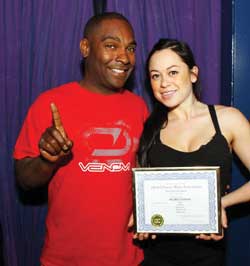 Tony: I've traveled a lot to for racing as well (and don't mind the flying) and I know exactly what you mean. It's such an enjoyable time. Ok, so you're headed to a national event and know it's going to be a biggy. Who are some of the top-tier drivers you look forward to racing against?
Bill: Hmm, where do I start? I like to race against the fiercest competitors, drivers who are notorious for dominating on a regional as well as national level. The man on the top of that list would be Darin Jordan. Through our "battles" on water we have pushed the speeds of the stock (N-1) classes as well as the 1-cell (N-2) classes to some mind boggling speeds using car motors and ESC's. I have set the most electric records in the country, but I like to race against drivers who may be more proven than me on the oval race circuit on a national level. Drivers like David Newland, Dougie Twaits Jr., Brian Buass, Mike Paganelli and an absolutely incredible driver named Jason Simms are the type of drivers that make me proud if I can zap them in a heat. But you want to know who I'm most satisfied racing against? It's that rookie who has only raced two or three times and on this day pulls off an amazing run and beats me. I actually don't get mad when that guy runs around the pits, hopping up and down and bragging to his buddies about how he whooped me. I know that fire that's in him, that confidence, that enthusiasm. I love knowing that I was a vessel for that guy to become hooked on our beloved sport. I've been there and it's just what this sport needs. I remember being that rookie who finally passed up a champ in a heat race. It makes you want to go home and head STRAIGHT to the garage to try and improve your boat. It's a great feeling.
Tony: That's probably the first time I've ever heard a pro RC person take that point of view. That's a great attitude and certainly one that will gain you a lot of respect. Ok, enough about RC boats…let's get a bit more personal. Tell us about some of your other passions? I've seen some recent pictures of a super-clean 1974 Delta 88 on your Facebook…
Bill: That car has been in my life since I was a lad. I bought the car when I was 18 with money I saved selling newspaper subscriptions door to door; what a character builder. The moment I saw her, I knew it was a match made in heaven and that I would always love that car. I bought it from the original owner; a woman who got it fresh off the showroom floor for her 16th birthday in November 1974. She kept it until she was 36 years old! The car was used for parades in the town of Danville CA throughout the seventies. Through thick and thin, I kept the car no matter how raggedy she had gotten. Friends and family asked, "Man, why don't you sell that big wreck?" I stuck to my guns and assured them one day that would be one of the most beautiful things they had ever seen. I remember that car getting pulled over at every turn. Now the police stop me to compliment it or ask where it was painted. I put the car away for many years until about seven years ago when I felt I was mature enough to execute the perfect restoration. It took four painstaking years of dealing with shops, scouring for parts and pouring my heart and soul into her to make her what she is today. Can I mention a few tweaks I've done?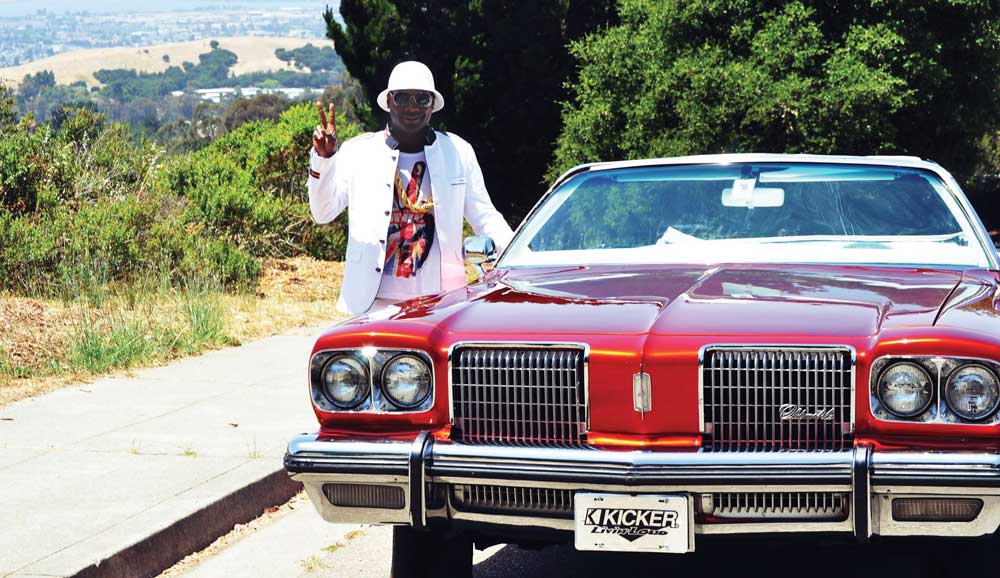 Tony: Sure…fire away!
Bill: Ok, it's a 1974 Oldsmobile Delta 88 Royale convertible originally painted in cinnamon with a white top and interior. I repainted it with House of Color Candy Tangerine over a gold base, recovered the convertible top in Robbins white as well as an all-white leather interior. The wheels are 24kt gold custom Dayton wire wheels on Genuine 15-inch Vogue tires. This beauty is powered by an Oldsmobile Rocket Big Block 455 engine hooked up to a Turbo Hydramatic 400 transmission. Tunes rock out through four 15-inch KICKER L-7 woofers powered by 2 KICKER KX 2400 amps. Craig Seagraves from Tesla motors built the speaker enclosure and boy does it hit hard and clear for a convertible! We actually blew out the rear window, so we opted to install a Mylar one. Everything on the car has been replaced or rebuilt from the suspension to the convertible top frame. This car is absolutely breathtaking in real life. I'd like to think the completion of my Delta is a testimony of my life and how I've come to be. To win races, it takes all the right parts to be number one.
Tony: Well it looks insane from the outside, that's for sure. Are you going to take me for a ride it in one day?
Bill: Of course. Name the time!
Tony: Don't think I won't take you up on that. I also want a ride in your other passion…your real boat. Tell us a little about that.
Bill: Best thing I purchased next to my daughter's braces (laughter). My 1978 Eliminator 18-foot bubbledeck jet boat is my heart. I've owned three race boats and this one for five years. I saw an ad on Performance Boats forums and immediately fell in love with her lines. Those classic 70's graphics look so clean. The boat had basically been in a time capsule for 30 years until the previous owner found her on a car lot with an all-aluminum 427 Big Block Chevy engine. I bought her without the motor but had a fresh Chevy 468 engine ready to bolt on. Though she was in pristine shape, I ended up going through the whole boat and replacing almost everything. It's a beast and, although it's not a safe to take out alone, I find my most tranquil moments on it. There's nothing like shutting that engine off and laying out on the deck like a lily pad in the sun. I intend to propose to my girlfriend on it one day but don't tell her (laughter).
Tony: Well I won't say a thing about the proposal but you might want to keep this issue away from her! Alright, random final question. You're out and about by yourself and your boat breaks down. You set ground on the shore of this uncharted desert isle. No phone, no lights no motor car, not a single luxury. Like Robinson Crusoe, it's as primitive as can be. How do you make the best of this situation?
Bill: Ok Tony, you're asking me this as I fly out to Maui first thing in the morning? First of all, if I was on my boat I would likely have a female companion. If I was stranded on a desolate isle with no technology, no means of communication and no way of reaching or contacting civilization, quite honestly I may just end up living out a fantasy. I always loved the movie "The Blue Lagoon", so most likely the woman and I would build a fortress and produce children. Survival in the wild is so challenging I wouldn't have time to yearn for luxuries; I'd be too busy hunting, foraging and building. As everyone knows, I'm a character. [Editor's Note: Such a character I had to clean up this response a bit] I'd pretend to be Gilligan and the Professor at the same time. With my electronic know-how, I might create something to use as a signaling device. Heck, with my Gilligan skills I just may repair the boat!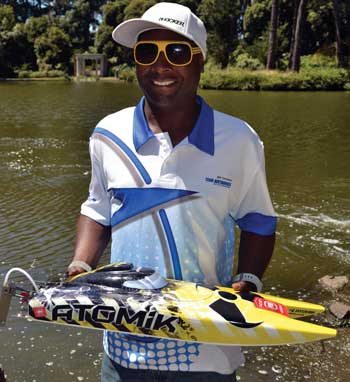 Tony: Most people would panic, but it appears like you might have already thought about this way in advance! Well Bill, time to wrap it up. Thanks so much for taking the time out to answer some questions for RC Boat. On a final note, are there any sponsors or supporters you'd like to give a shout out to?
Bill: Shout outs to my sponsors? Where do I start? First let me take my hat off and bend my knee to Team Novak. Thank you, Bob Novak, for supporting all my racing endeavors and providing me with whatever it takes to keep our name in the record books for over 10 years now. I'd also like to take a special moment to thank a guy that we in the industry all know very well, Charlie Suangka. Charlie opened the door for me in this sport and turned it into an exciting career. Back then Novak didn't have any boat drivers, but big Charlie believed in me and together this has been one fun ride. Being sponsored by such a prestigious, world-renowned company validated me in the industry and allowed me to gain more sponsors. Everyone in that building treats me like gold. Brent Newman, Ruth Espinosa, Jaquelin Berber, Adnan, the whole staff! Next, I'd like to thank Venom/Atomik. These guys have invested in my race career as well as the district I race so diligently in. I'd like to also thank Airtronics, big CK (Craig Kaplan) and Mike Greenshields. Craig and I have been good friends for some time and I appreciate all of their support. Boca Bearings and Dogmara Postelle have been another great sponsor. Their bearings are the best in the industry. I'd like to thank Thomas Fresheley over at Kicker Audio/Stillwater Designs for the 'sound' support. I feel very lucky to be supported by them. Thanks goes out to Randy over at BBY, a man who has been a huge help and taught me a lot. A huge shout goes out to A-Main Hobbies for their support. I want to send out an emotional thanks to Don and Connie from Family Hobbies in San Leandro, CA. Though the shop has been closed for over 15 years, I will always love and appreciate these wonderful people for treating me as one of their own. All the afternoons they let me dig through boxes so I could find parts to dig through to modify my RC…that time is priceless. Those folks never put me down and always encouraged and supported me. Finally, I want to thank two guys who that made this interview a reality; Tony Phalen and Greg Vogel. Not only do I get a couple of pages to talk about myself, but they've given me an additional outlet to share my vast RC boat knowledge. Thank guys, it means a lot to me.
Tony: Thanks Bill. We appreciate all you do, all you know and letting us be the ones to help share that knowledge with the world.
Bill: You bet. Thanks Tony.
I've done a few RC interviews in my day and have to say the one thing I love about them is seeing just how 'human' the elite drivers are. Most people only get to see them at the track; tuning their cars in the pits, chatting with their group of friends or setting unbelievably fast lap times. This humanity also demonstrates the fact that if you really want to be a RC superstar you have to work at it, pay your dues and don't let it go to your head. Bill is a great example of all those things. He's well on his way to being one of the most influential RC boaters in history.