Gasoline-Size Boat with Watts of Power!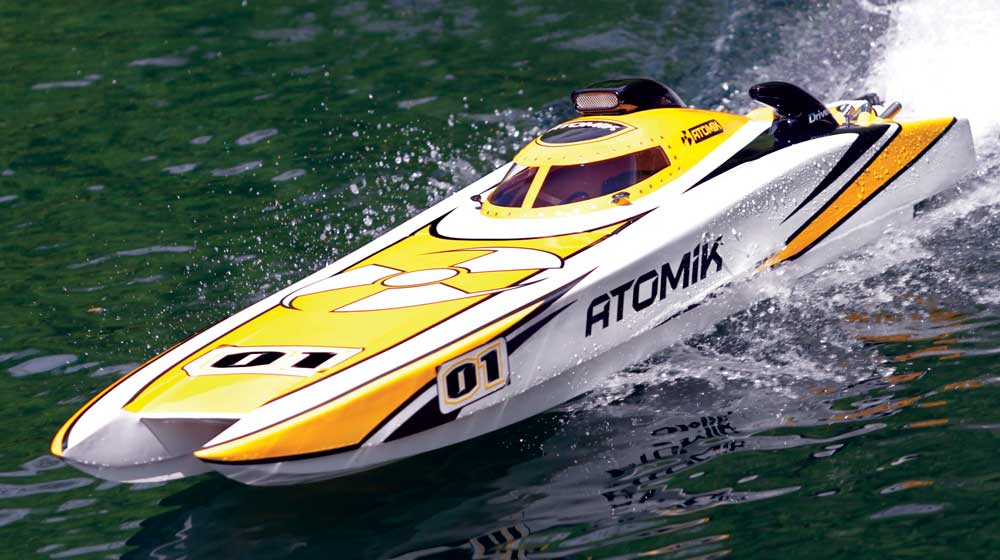 I love electric boating. How can you not? Electric boats are clean, quiet and easy-to-use. Today's brushless power plants provide gobs of power and tons of speed. The only drawback that I had with electric boating was that the hull sizes were usually smaller; in the 36-inch or less range. That is until now… Atomik RC has just released their new 58-inch RTR Catamaran A.R.C. (Atomik Racing Catamaran) powered by a whopping 2000 watt brushless motor that will easily develop speeds in excess of 40mph right out of the box. The A.R.C. has a beautiful hand-laid fiberglass hull with full color graphics and a smooth gel coat. Driving the motor is an Atomik 120A water-cooled speed control with BEC (battery eliminating circuit) to power the radio system. The A.R.C. comes with an Atomik 3-channel 2.4GHz transmitter featuring digital trims, dual rates and failsafe. This boat is sure to turn heads on the water delivering electric performance in a gasoline-size hull. The A.R.C is a real performer with a lot to offer, so let's take a closer look.
AT A GLANCE
WHO MAKES IT: Atomik RC
WHO IT'S FOR: Beginner to intermediate boaters
HOW MUCH: $999.99
BUILD TYPE: RTR
BOAT TYPE: Electric Catamaran
THE BOTTOM LINE: The 58-inch Atomik A.R.C. delivers awesome performance that you would expect from a brushless-powered electric boat with the ability to tame the rough seas with its large fiberglass hull. The A.R.C. is a true RTR with a high-performance electronics package that will have you out on the water lapping the gas boats in short order. The A.R.C. is simple for any novice boater to have success with immediately and with confidence and best yet, will give you the performance you demand.
PROS
+ 2000 watt brushless outrunner power system
+ 2.4GHz Atomik 3-channel radio system
+ High-quality CNC machined aluminum running hardware
+ Attractive color graphics under protective clear coat
+ Excellent performance
CONS
– Steering to the right was more sensitive than the left, making it easy to oversteer.
SPECS AND TUNING OPTIONS
A.R.C. HULL
OVERALL LENGTH: 58 in.
BEAM: 15 in.
OVERALL HEIGHT: 13 in.
HULL MATERIAL: Hand-laid fiberglass
WEIGHT: 13 lb.
MOTOR
TYPE: V700 1100Kv Outrunner Marine Motor
DIMENSIONS: 48x58mm
SHAFT DIAMETER: 5mm
MAX RPM: 40,000
MAX AMP: 130A
ESC
TYPE: Atomik 120A Pro Marine Brushless
CONTINUOUS CURRENT: 120A
BURST CURRENT: 240A
BEC OUTPUT: 6V/3A
BATTERY CELLS: 2-6S LiPo
RADIO GEAR
TRANSMITTER: Atomik 3-channel 2.4GHz
RECEIVER: 8188, 4-channel micro
SERVO: 1825, High-torque metal gear
SERVO SPEED: .17 sec/60 degrees
SERVO TORQUE: 107 oz./in. @ 6V
DRIVE GEAR
PROP: 54mm, 3-blade aluminum
RUDDER: Aluminum knife-edged
DRIVE SYSTEM: Flex shaft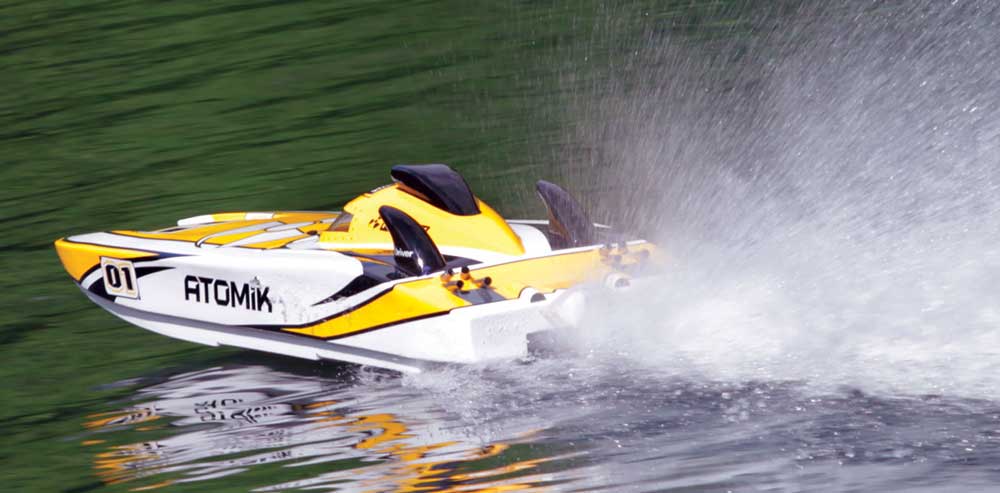 HULL
Out of the box this cat commands attention with its beautiful bright white, yellow and black graphics scheme under an ultra-smooth clear coat on a hand laid fiberglass hull. The laser-cut plywood internals are engineered for multiple electric configurations. The pre-installed laser-cut radio box and battery tray system will accompany a single 6S LiPo battery and is expandable for up to a 12S dualpack configuration. There are eight thumb screws that hold the acrylic radio box cover in place. The fiberglass gel coat hatch is secured in place with two twist-lock spring-loaded hatch pins for easy tool-less access.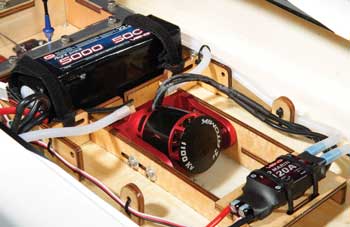 RUNNING HARDWARE
Atomik outfitted the A.R.C. with high-grade, lightweight CNC machined aluminum running hardware. The CNC aluminum strut assembly gives you complete adjustability of your prop pitch angle and height so you can tune your boat for optimum performance for the water conditions. A pushrod connects the steering servo to the rudder and passes through a rubber boot that keeps water from entering the hull. The rudder features dual water pickups; one for the motor and one for the ESC to ensure everything is running cool.
POWER SYSTEM
When you remove the hatch from a boat this size, the first thing you expect to see is a large gasoline power plant. Not on the A.R.C.! This cat is powered by a 2000 watt brushless outrunner electric motor. This 12 ounce motor can turn a 3-blade prop at over 27,000rpm pushing this boat at speeds in excess of 40mph. Driving the motor is an Atomik 120amp water-cooled ESC. The ESC can run with battery packs ranging from 2 to 6-cells. The motor mount is completely water-cooled which helps dissipate heat from the motor. The motor is coupled to a flex shaft that runs down an aluminum stuffing tube to spin the included CNC machined 54mm 3-blade prop. It is also important to mention that the design of the motor mount and prop drive system lends itself to be customized by the end user. You have the ability to upgrade the power system to meet your racing needs.
ELECTRONICS
The laser-cut radio box is attached to the main plywood ribs at the rear of the hull. An acrylic hatch is held securely in place with eight thumb screws to provide a watertight compartment for the radio gear. Inside the box, an Atomik radio system is already installed. An Atomik 1825 high-torque metal-gear servo gives you precise rudder control. To control the boat, Atomik included its 3-channel 2.4GHz radio system. The radio has many features found on high-end systems such as digital trims, dual rates and a failsafe circuit.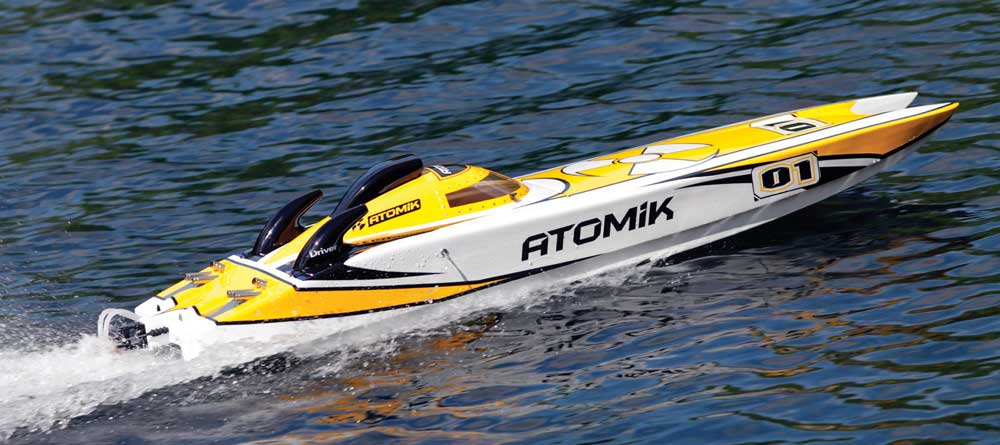 PERFORMANCE
After staring at the Atomik A.R.C. in the office for hours, I was anxious to get this bad boy on to the water and see what it could do. I headed over to our local pond with a fully charged Venom battery pack and was ready for action. It is a great feeling to head to the water with nothing more than a battery pack. No fuel, no fussing with engine settings–just a fun day on the water ahead.
I placed the A.R.C. into the water and slowly pulled the trigger. The prop immediately bit into the water and started moving the boat with authority. There was no cavitation, just solid grip as if it had tires. I punched the throttle and 2000 watts of power lifted the 13-pound boat out of the water like nothing. It was instantly on plane. Even as the water got choppier, it didn't seem to make much difference to this large cat. There were a couple of instances where I got a little overzealous and it hit a decent wave at full-throttle, sending the A.R.C. flying into the air. It was amazing to see how balanced the boat was in the air as it landed perfectly in the water, just like you would see with the full-scale cats. The A.R.C. definitely had my heart racing and I was not so "trigger happy" when the next large wave rolled around.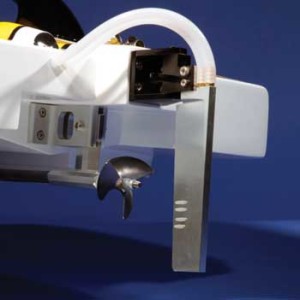 The turning radius on the A.R.C. was surprisingly tight and even on a high-speed tight turn the hull maintained stability with no signs of rolling over. I did tweak the radio a bit to tame the turning radius and I added dual rates so my nervous hands would not oversteer the boat.
Since the boat is marketed to the beginner to intermediate boater, I wanted to really test out its stability. In about 3 to 4-inch chop, I made many high-speed passes, zigging and zagging each time. I really had to work at getting the boat to become unstable and even when I finally got it up on one side of the hull; simply reducing the throttle tamed it right down. The level of stability that the A.R.C. has makes this a great first largescale boat for any boat enthusiast, but it's sure to keep a seasoned boater on the edge of their seat. After about five minutes I could feel that the battery was starting to lose its charge. As soon as you feel a performance drop, it is good to get the boat back to the dock before the low-voltage cutoff jumps in and has you swimming to retrieve it. With speeds exceeding 40mph, combined with a stable ride, the A.R.C. was a whole lot of fun!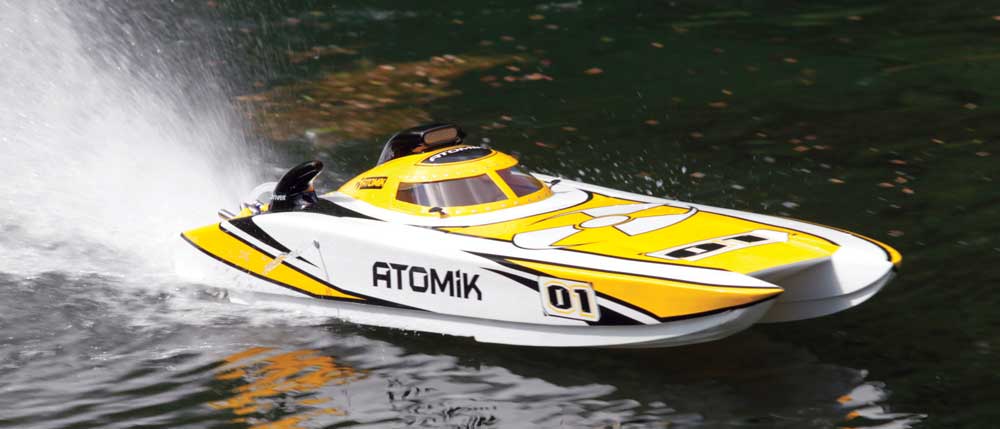 NEEDED TO COMPLETE
• "AA" batteries
• 25C or 50C 6S 5000mAh LiPo battery pack
• Charger
WHAT WE USED
• Venom 50C 5000mAh
• 6S LiPo battery
• Venom "AA" batteries (8)
• Venom Pro Charger Plus
TOOLS
TOOLS INCLUDED: Allen wrenches
TOOLS RECOMMENDED: Hex driver set, screw driver set, needle nose pliers, side cutters, hobby knife and curved scissors
HARDWARE TYPE: Metric
DOCKSIDE DEDUCTIONS
The Atomik 58-inch A.R.C. is sure to set a new trend in the model boating world — large electric boats! When it comes to ease of use, simplicity and performance, it is really hard to beat an electric boat. The A.R.C. performed better than most of the gasoline boats that I have run. The hull is hand-crafted and finished with a bright three-color graphics scheme. Atomik outfitted all the running hardware with high-grade CNC aluminum components. Pushing the boat was a quality, 3-blade, CNC machined, aluminum prop. Inside the hull, the laser-cut formers kept everything securely in place and the motor mount is designed for multiple brushless motor configurations. The radio box provides easy access via thumb screws to the radio gear; no more hatch tape! There is no doubt that Atomik has a real winner here with the A.R.C. Whether you are a beginner or seasoned boater, you will love the performance that you get from this big cat. When you couple high-quality components with a rock-solid and stable hull, you have a boat that is going to provide you with countless hours of action on the water.
LINKS
Atomik RC atomik-rc.com, 800-705-0620
Venom Group venom-group.com, 800-705-0620
Words: Erick Royer
Photos: Walter Sidas