Semi-Lit Sailboat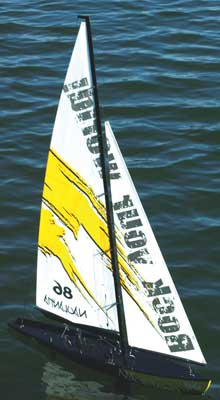 For many years the Thunder Tiger design team has provided quality RC sailboat kits for anyone interested in building and running an air-powered marinecraft. With the recent increase in ready-to-run sailcraft, Thunder Tiger has now developed the Naulantia One-Meter yacht kit; which, while not an RTR boat, does have a lot of the "building" done for you by the factory. Pre-painted and decaled from the box, the sleek hull requires no sanding, primer or paint/clear-coating; so, the main assembly work will center on installing the boater's radio gear and rigging the kit's mast/sail set. Done this way, the modeler will gain a lot of valuable sailboat setup knowledge without worrying about waiting on paint to dry to get the boat on the water. Due to the kit's detailed instruction manual, we won't be doing a step-by-step overview of the Thunder Tiger sailboat and will instead cover its main building points and any tweaks done to the kit's hardware and components.
AT A GLANCE
WHO MAKES IT: Thunder Tiger
WHO IT'S FOR: Anyone with some general RC boat experience
HOW MUCH: $199.98
BUILD TYPE: Kit with prepainted/decaled hull
BOAT TYPE: One-Meter sailboat
THE BOTTOM LINE: Large enough to handle stiff winds and look great doing it, the Thunder Tiger Naulantia is relatively easy-to-build and will give the boater a lot of insight on how a sailboat works and what has to be tweaked to make it sail better at the lake.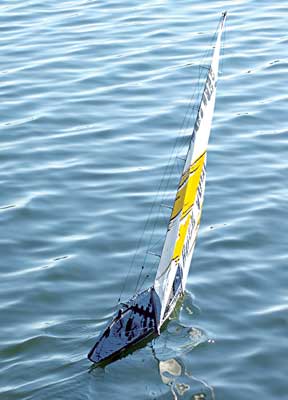 NEEDED TO COMPLETE
• 2-channel stick-style radio system
• Sail winch servo
• Receiver battery pack
WHAT WE USED
• Futaba 2DR radio system, FUTJ25
• Futaba R162JE AM receiver (Included with radio system)
• Futaba S3003 servo (Included with radio system)
• Thunder Tiger/Ace RC WQ2811 sail winch 1BB servo, 8141
• Thunder Tiger/Ace RC 4.8V 3600mAh NiMH battery pack, 2980
TOOLS
TOOLS INCLUDED: 4-way box wrench, two-part epoxy glue
TOOLS REQUIRED: Thin & thick CA glue, drill bits, 15 to 30-minute epoxy
SPECS & TUNING OPTIONS
LENGTH: 39 in.
BEAM: 6.75 in.
HULL MATERIAL: Blow-molded ABS
SAIL AREA: 744 sq. in.
OVERALL HEIGHT: 51.4 in.
WEIGHT (minus radio gear): 7.7 lb.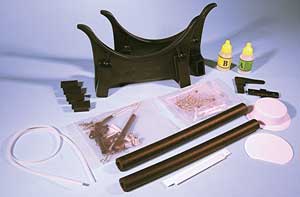 HULL
Formed from ABS plastic, the 39-inch long hull features a square, sealed hatch assembly and a pre-formed slot for the separate keel fin/bulb weight assembly. A series of scale deck fittings are included and must be glued and or screwed to the hull and hatch surfaces. To support the sail and rudder servos, a multi-piece plywood tray is CA'd together and then glued inside the hull while a ply bulkhead (also glued inside the yacht) helps to support the keel and mast areas. Both to hold the hull during its assembly and then for display purposes an aluminum and composite cradle is included with the kit. Thunder Tiger provides a supply of two-part epoxy to help build the boat; plus, you'll also need some thin and thick CA to complete the boat's various construction steps.
POWER SYSTEM
Although there's no motor required to propel the Naulantia, it's mast and boom combination is made up of a strong, lightweight aluminum while the main and jib sails are formed from an equally light-buttough material that provides 744 square inches of sail area. To control the sails, the Thunder Tiger/ACE RC WQ2811 sail winch servo used in this unit was designed for use in the Thunder Tiger yacht. Available torque to the winch is 153 ounce-inches at six volts and its quarter-size case has a waterproof seal on the housing seam. The power source for the sail and rudder servos is an Ace RC 4-cell, 3600mAh NiMH battery pack (again, designed for the Naulantia) which is installed via a pair of hangers built into the ply servo tray.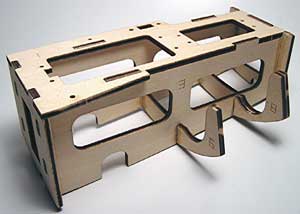 ELECTRONICS
Controlling a sailboat the size of a One-Meter design can be managed by a regular two-channel stick-type radio system; so a Futaba 2DR radio system that includes the R162JE 2-channel receiver and S3003 standard servo for steering was mounted in the hull. As sold, the Futaba 2DR transmitter's left-hand stick is self-centering which means to make it compatible for sailboat usage the stick's spring-loaded ratchet must be removed. This modification will involve separating the transmitter case to access the ratchet and spring; however, once you un-hook the spring, it and the ratchet easily detach from the stick unit. You can also eliminate the right-hand stick ratchet as well, but it's not mandatory for proper sailboat control. Due to several rotation capabilities of the Ace RC sail winch servo, a stick radio with a variable-rate trim knob on the left-hand control stick would be helpful as a regular stick may move too far and cause an over-run of the sail control cords. On the 2DR transmitter, I simply made a limiter out of a thin plastic sheet and glued it on the top of the stick guide to cut down the "swing" rate on the sails.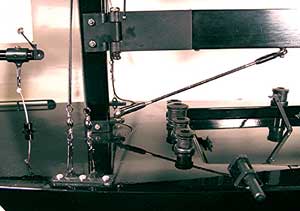 THE BUILD
When assembling a sailboat kit like the Thunder Tiger Naulantia, the main things to remember is that some components may need some sanding to fit properly and you'll benefit from using a bit of slow-set epoxy or thick CA glue when affixing parts inside the hull. Sailboats have to endure a lot of force from sudden gusts of wind hitting the sails; so all of the yacht's keel, mast and sail rigging hardware must be firmly mounted to avoid a problem when out on the lake. I used both 15 and 30-minute epoxy for several of the kit's indicated construction chores and while this does slow down the building process, it will yield a stronger, more reliable sailboat. Moving to the installation of the mast and sails, each and every rigging cord knot you make must get a drop of CA glue to insure there's no slippage in the boat's setup once it's running in windy conditions.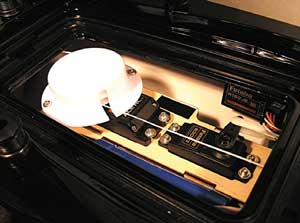 PERFORMANCE
Following the kit's instruction manual for the recommended sail tension and angle setting of the rigging lines and a basic radio range check of the Futaba radio, the Naulantia was ready to sail. As the test day was rather breezy, I chose to apply a bit of extra tension to the boat's back stay cord which is a normal change when sailing in high winds. With the hull's long keel fin/bulb, you'll have to launch the boat in at least two feet of water; so, investing in a pair of rubber boots will keep your feet (and clothes) dry while putting the Thunder Tiger yacht in the lake. My initial impression of the sailcraft was that it could quickly pickup speed running either in an up or downwind run. Another windy day factor on the hull was that while it was "powered" by a 4.8-volt receiver pack, a 6-volt battery onboard with its increased voltage would have given the sail winch more torque to trim the sails better in gusty air. As for the Futaba servo in charge of the rudder blade, this setup allowed the yacht to easily pivot as long as there was wind in the sails and the boat had only a minimal amount of forward momentum. With the Naulantia's multiple mast and sail adjustment cords, the modeler can move the mast, booms and sails to best capture the wind, which in turn means more speed and control once you get the hang of RC sailing. Recovering the boat did see a slight mishap, as when I grabbed the hull, I hit the rear scale deck winch which snapped off in my hand. If you plan on doing weekly runs with the Thunder Tiger sailboat, I'd recommend you leave off as many of the deck decorations as you see fit as this will eliminate breaking them as I did.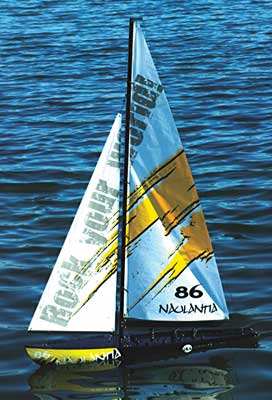 PROS & CONS
+ Ply box structure for radio gear is simple to assemble and accepts regular rudder and sail winch servos with out modification
+ Support stand is tough enough to build the yacht and adjust the sails at the lake
+ Can handle higher on-water wind conditions than smaller sailboats
+ Available in three color combinations
– Hatch/deck seam will need some sealing tape in rough water conditions
– Keel bulb's winged stabilizer tends to catch a lot of weeds when you run near shore; use optional "half pipe" piece that eliminates the wings on the lower bulb
– Scale deck fittings are a bit fragile and can be easily dis-lodged when launching or recovering the yacht
DOCKSIDE DEDUCTIONS
Only a few short years ago, a typical RC sailboat kit would have contained an un-painted hull with a separate deck plate that would have had to be glued in place before the hull could be painted. The kit's instruction manual would have only been a couple of typed pages with no images or drawings to guide the builder to assemble his/her sailboat. With the Thunder Tiger Naulantia, you get laser-cut wood parts, a two-piece aluminum mast, a fully painted/decaled hull and a construction manual that not only details the boat's assembly steps, it also contains plenty of useful information regarding how to sail and adjust the finished yacht as well. Capable of being crafted with only a few regular hobby tools and adhesives the Thunder Tiger One-Meter Naulantia is buildable by anyone with a bit of experience and the dream of sailing a hull that didn't come pre-built from the factory.
LINKS
Futaba futaba-rc.com, 800-682-8948
Thunder Tiger ttamerica.com, 217-398-3630